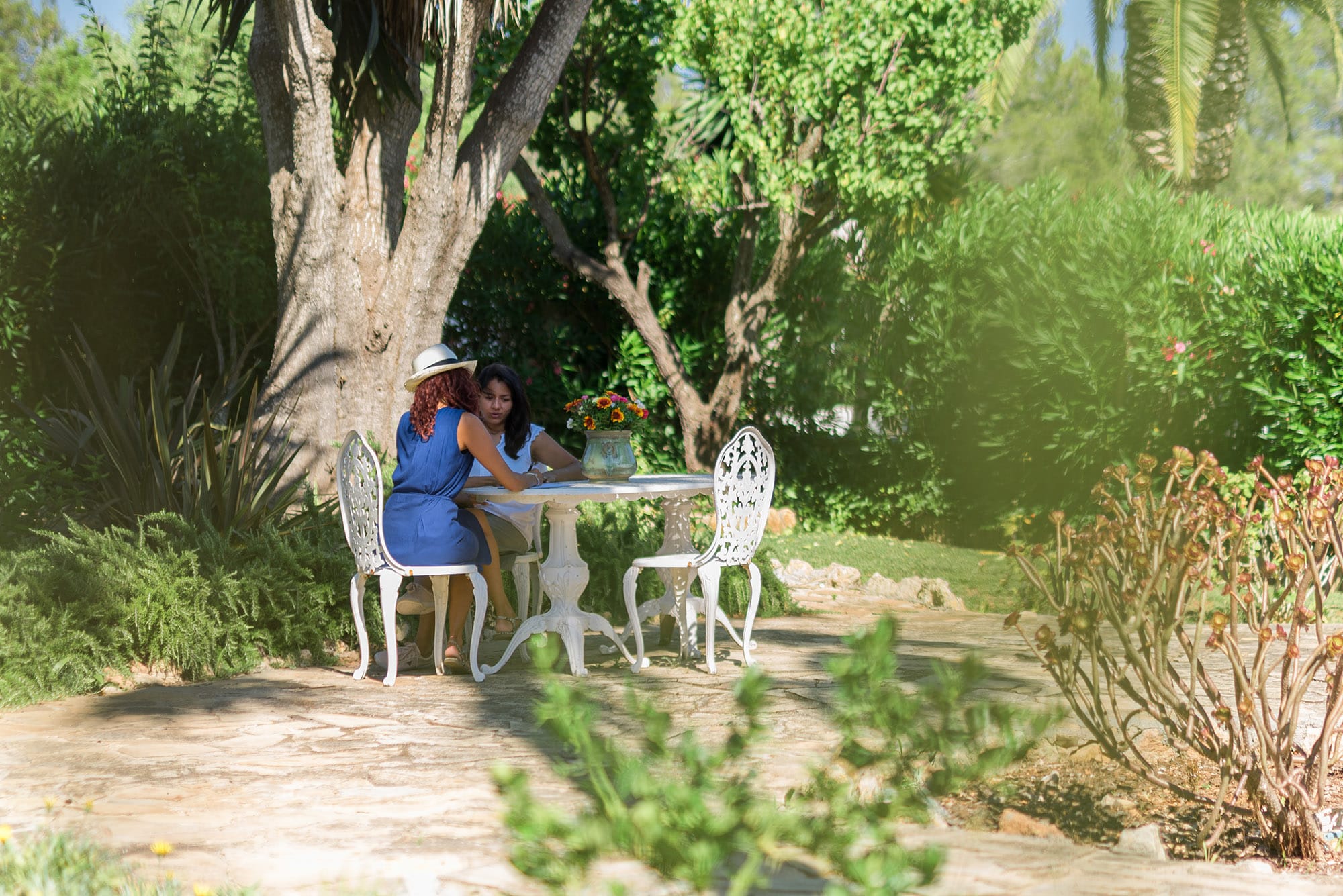 Tratamiento
a Medida
Tratamiento Individual a Medida
Aquí en Ibiza Calm, reconocemos que algunos de nuestros clientes están buscando un enfoque más individualizado y personalizado del tratamiento que muchas otras instalaciones de tratamiento ofrecen; Una donde el cliente es capaz de recibir todo el cuidado y atención necesaria para recuperarse en un entorno individual exclusivo. Algunos clientes también necesitarán ayuda con miembros de familia y también podemos ofrecer una solución adaptada donde también se proporciona alojamiento para familiares, personal o seguridad.
Solicita una devolución de llamada!
Plan de tratamiento personalizado
Además de los múltiples beneficios de ocupación de la lujosa casa de campo y terrenos, los clientes también tendrán un plan de tratamiento personalizado que incluye:
→ Terapia 1-1 diaria
→ Acceso exclusivo a un médico y un psiquiatra privado
→ Viajes de negocios y de ocio externos acompañados
→ Mayor seguridad, así como nuestras garantías habituales en torno a la discreción y el anonimato
→ Acceso a Skype, correo electrónico, teléfono, etc. para fines comerciales y familiares
→ Un régimen adecuado de acondicionamiento físico dentro y fuera de los terrenos
→ Terapias complementarias diarias de primera clase incluyendo Shiatsu & Masaje Craneal Indio
→ Régimen de comidas planificado utilizando un chef y dietista interno
→ Un paquete de cuidado continuo que también ofrece una opción clínica 24 horas una vez que deje el tratamiento si lo desea
→ Podemos proporcionarle la gestión de su viaje, incluido el viaje en jet privado y compañeros de viaje altamente capacitados, lo que garantiza una experiencia segura y libre de preocupaciones.
Los clientes que optan por este enfoque de tratamiento podrán disfrutar del uso exclusivo de nuestra casa superior de dos dormitorios y o el uso exclusivo de nuestra gran casa de campo y nuestro terreno por un período de tiempo prolongado para hacer frente a una variedad de problemas de salud.
Nuestros clientes anteriores que han eligido esta opción de tratamiento privada a medida son individuos ocupados, típicamente del mundo de los negocios y de las artes y otras personas que tienen vidas donde es simplemente imposible "desaparecer" completamente por cualquier período significativo de tiempo extendido. Con el apoyo y la atención personalizada que ofrecemos en este entorno único, los clientes son capaces de recuperarse a su propio ritmo en paz y seguridad con un retorno graduado a una nueva vida re-energizada y más productiva.
El Proceso
del tratamiento
Utilizamos un modelo compasivo que brinda contención y apoyo, busca facultar dignidad y cuidado personal. Usamos técnicas como terapia de conducta cognitiva, entrevista motivacional, introducción a los 12 pasos de rehabilitación y terapias grupales. Todo esto en combinación con ejercicio físico, una dieta balanceada y una propiedad cómoda e inspiradora.
En Ibiza Calm el proceso de tratamiento
sigue estos pasos:
1- Evaluación
un examen físico y psicológico exhaustivo por nuestro equipo médico, con énfasis en el historial de uso de medicamentos.
2- Desintoxicación
es un proceso medicalizado durante el cual el cliente abandona la sustancia adictiva. En el caso de fármacos, este proceso puede durar todo un mes. No todos los clientes necesitan desintoxicación.
3- La planificación del tratamiento
se realiza con el cliente e incluye las metas para un estilo de vida diferente.
4- Terapia
asesoramiento individual, terapia de grupo y charlas psicoeducativas. Desde el primer día el cliente está asignado a un terapeuta y se incorpora a la terapia de grupo. Nuestro objetivo es ayudar a cada cliente a descubrir más sobre sí mismo y proporcionarle herramientas para la recuperación.
5- Nurtrición y ejercicio físico
La dieta equilibrada es de capital importancia, contando con nuestra propia nutricionista. Yoga, mindfulness y ejercicio (incluyendo paseos en la playa) contribuyen a una recuperación rápida y completa.
6- El descanso
es clave para la recuperación. Nuestro programa de tratamiento permite tiempo para descansar, relajarse y regular el descanso nocturno.
7- Familias
Animamos a los miembros de la familia a formar parte del proceso de la rehabilitación y que asistan a una sesión familiar al final de cada mes.
8- Cuidados posteriores
programamos sesiones semanales de seguimiento post-alta en Ibiza y en el Reino Unido. También podemos ayudar a nuestros clientes del extranjero, organizando el seguimiento en su país de residencia.
Your courage is admirable!
THE PATH TO RECOVERY STARTS WITH A SMALL FIRST STEP.
EMT – Estimulación Magnética Transcraneal
Si bien existen muchos tratamientos efectivos para afecciones como la depresión, los enfoques de primera línea como los antidepresivos y la psicoterapia no funcionan para todos. De hecho, aproximadamente dos tercios de las personas con depresión no obtienen un alivio adecuado del primer antidepresivo que prueban.
Testimonials
I wanted to drop you a quick message to thank you very much for your help and support during my stay within Ibiza Calm. Each and every person in the house was important in his own way in my recovery. I feel very grateful to all of you. It's not always easy but it is achievable. My life is way much better than it was before coming and I am definitely a better version of myself now.
My son attended two rehab facilities before going to Ibiza Calm.  Ibiza Calm, however, was exactly what it professed to be. They worked with my son as a vital ally in his recovery process, not as a person to be broken and fixed according to a set regimen, who would be blamed and shamed if he did not respond appropriately to the facility's treatment protocol and schedule. The therapist assigned to my son struck the right balance between allowing him to move at a pace at which he was comfortable and pushing him to keep a challenging pace of self-discovery and recovery. My son has come out of this treatment calm and self-aware; whereas he finished the other programs angry and even traumatized. My son has only been 6 weeks out of Ibiza Calm, so the long-term success in remaining sober remains to be seen, but the change in his attitude and behavior is so profound that I have great hope for the future for the first time in years. I recommend Ibiza Calm without reservation, rather with overwhelming gratitude.
I was at Ibiza calm from the 4th of July to the 29th of July 2020, I am 23 years of age and was in a horrific place in my life From drink and cocaine. My girlfriend is pregnant and outright had enough of my selfish behaviour. I was really ready to start my recovery, I settled in fantastic they have amazing staff so helpful and caring, the food is unbelievable thanks to Danny the main man in the kitchen, the grounds are beautiful, the bedrooms are very nice I overall found my stay amazing. 10/10 couldn't fault it many thanks Francis.
My husband was in the priory 6 months ago, which I wasn't totally convinced by not only experiences of others but the surroundings/ Set up and approach to it .. he is only 2 weeks into his journey at IBIZA calm and it's the first time in a long time I can finally hear happiness in his voice, and motivation on his healing / sobriety journey , commitment to his inner and outer health.. I know this is just the beginnings But both billy and Luca have been extremely helpful and helpful to myself ! If your looking for yourself or a loved one, 100 look no further this is the type of place someone who is suffering needs- the surroundings, the programme, the environment , and amazing team!
I can't thank the team at Ibiza Calm enough. I had a friend who spent time with them and what they have done is amazing. From the therapy to the meetings have all set him up for moving forward. Once he left he was not just left and has a fantastic aftercare system in place. Thank You.
I am writing a review on behalf of a friend who prefers to remain anonymous and wishes to express his thanks and gratitude to the staff at Ibiza Calm. He had previously stayed at two rehab centres in the UK, and found the experience at Ibiza Calm to be far more beneficial than either of the UK centres. He said he felt the therapists were much more experienced and caring in their approach which in turn gave him the confidence to finally fully open up about his triggers and issues. He has been sober for the longest period since he has started his road to recovery and it's all thanks to Ibiza Calm.
I'm so grateful for my month at Ibiza Calm. It's a beautiful place, and I learned how to manage my life in a positive way, with healthy food, exercise and self-awareness. I've had many life challenges since I left ( over 2 years ago), but I haven't used any of the destructive behaviours I previously relied on. I gained clarity, freedom and sanity, for which I will always be thankful.
ibiza calm is a great place for treatment I was using drugs and drink all the time my life was a mess until I went to ibiza calm in april 2016 the staff were fantastic and cared for me the treatment I recieved was second to none I can't thank ibiza calm enough and also my family have there son and husband back in there lives thanks to this place I am grateful to the owners who have always supported me through the years
Parte Superior