Acerca de la
Clínica

¿Por qué elegir Ibiza Calm?
TECNOLOGIA DE PUNTA Y UN EQUIPO INTERNACIONAL
Ibiza Calm es una clínica de rehabilitación residencial para tratar el alcoholismo, la adicción a las drogas, incluidos los medicamentos recetados, las adicciones a los procesos (trastornos alimentarios, juegos de azar y codependencia). También tratamos la depresión, el trastorno bipolar y las personas que sufren agotamiento.
Durante años, el enfoque estándar para el tratamiento residencial ha sido el modelo intensivo de "centro de entrenamiento". No en Ibiza Calm, donde hemos creado un espacio de apoyo y descanso. La experiencia nos ha enseñado que crear un ambiente sin prejuicios es clave para superar la adicción y otras condiciones psiquiátricas y psicológicas.
Solicita una devolución de llamada!
Tecnologia de punta
UN EJEMPLO: Estimulación Magnética Transcraneal
Usamos tratamientos efectivos que han ayudado a miles de personas a recuperarse exitosamente de adicción y depresión. Este tratamiento ha sido estudiado por su eficacia en diferentes trastornos psiquiátricos. Es una modalidad de tratamiento probada y efectiva para el trastorno depresivo mayor, tinnitus, trastorno obsesivo compulsivo, síndrome de Tourette, fibromialgia y adicción.
Nuestro eficaz equipo
Somos Ibiza Calm
Contamos con un equipo de profesionales altamente calificados internacional que ofrece tratamiento, tanto en inglés y en español, algunos de los cuales tienen más de 30 años de experiencia trabajando en el tratamiento de la adicción.
leer más
La Casa y la Propiedad
LA ENERGIA DE LA PROPIEDAD
El edificio principal es una casa de campo ibicenca de 500 años llamada "Can Fruitera". La casa está situada en una finca de 3 hectáreas de campos de naranjos y limoneros. Esta tranquila finca está situada en el corazón de Ibiza y está a poca distancia de varios pueblos con encanto y playas como Benirras, que ofrece puestas de sol espectaculares. Los jardines facilitan un amplio espacio para caminar, la relajación y la contemplación. Los huertos nos proporcionan fruta orgánica, que forma parte de nuestro nutritivo menú. El cercano pueblo de Santa Gertrudis de Fruitera recibe ese nombre por nuestra finca.
Nuestro programa incluye:
Examen clínico al ingreso
Desintoxicación si es necesario
Plan de tratamiento individual elaborado con el cliente
Terapia/Asesoramiento
Terapia de grupo
Meditación, yoga, ejercicio
Charlas psicoeducativas
Plan de nutrición individual
Apoyo familiar
Prevención de recaídas y seguimiento tras el alta
Pregúntese...
Aunque se considere adicto o no, si su comportamiento se ha salido de control, Ibiza Calm ayudará.
¿Alguien que conozco necesita ayuda?
SERVICIO DE INTERVENCION
¿Necesito ayuda?
¿Mi vida está fuera de control?
¿Soy adicto?
AUTOTEST
Su valor es admirable!
EL CAMINO A LA RECUPERACION INICIA CON UN PRIMER PASO
Solicitar una devolución de llamada!
Acerca el Logotipo Ibiza Calm
Durante el proceso de creación del logotipo de Ibiza Calm, se adoptó un enfoque más simbólico para reflejar mejor el centro.
Hay tres elementos principales en este logo. El sol, el pez y el océano. El sol simboliza la conciencia. En el centro de la insignia está el pez circular inspirado por el Ouroborus arquetípico y el océano que representa el inconsciente.
El Ouroborus es un símbolo antiguo que representa a una serpiente o un dragón que come su propia cola. "Mi fin es mi principio". Esto puede simbolizar la naturaleza devoradora de la adicción, pero también de la regeneración, la renovación y la integridad. Es el ciclo de desintegración y reintegración. Debido al entorno de la isla de la clínica un pez fue elegido en lugar de una serpiente que salta fuera del agua hacia el sol.
Se dio importancia adicional para la creación de este logotipo en linóleo cortado a mano para dar una sensación por lo tanto, imperfecta y humana, creando una obra de arte con alma en lugar de una imagen generada por ordenador.
Larry Vigon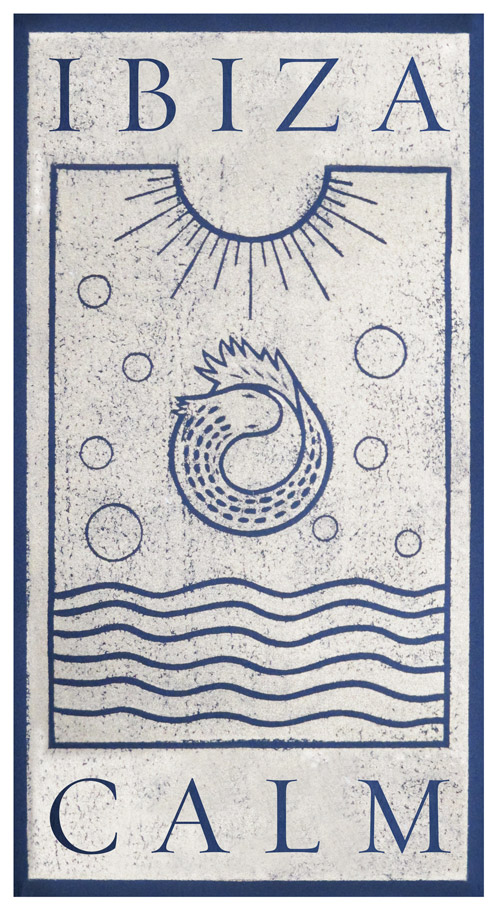 ¿Cómo tratamos?
Usando una combinación de efectivas terapias tanto psicológicas como complementarias, Con el apoyo y la atención personalizada que ofrecemos en este entorno único, los clientes son capaces de recuperarse físicamente, mentalmente y emocionalmente a su propio ritmo en paz y seguridad.
CLINICAS
ALTERNATIVAS
FISICAS
Testimonials
I wanted to drop you a quick message to thank you very much for your help and support during my stay within Ibiza Calm. Each and every person in the house was important in his own way in my recovery. I feel very grateful to all of you. It's not always easy but it is achievable. My life is way much better than it was before coming and I am definitely a better version of myself now.
My son attended two rehab facilities before going to Ibiza Calm.  Ibiza Calm, however, was exactly what it professed to be. They worked with my son as a vital ally in his recovery process, not as a person to be broken and fixed according to a set regimen, who would be blamed and shamed if he did not respond appropriately to the facility's treatment protocol and schedule. The therapist assigned to my son struck the right balance between allowing him to move at a pace at which he was comfortable and pushing him to keep a challenging pace of self-discovery and recovery. My son has come out of this treatment calm and self-aware; whereas he finished the other programs angry and even traumatized. My son has only been 6 weeks out of Ibiza Calm, so the long-term success in remaining sober remains to be seen, but the change in his attitude and behavior is so profound that I have great hope for the future for the first time in years. I recommend Ibiza Calm without reservation, rather with overwhelming gratitude.
I was at Ibiza calm from the 4th of July to the 29th of July 2020, I am 23 years of age and was in a horrific place in my life From drink and cocaine. My girlfriend is pregnant and outright had enough of my selfish behaviour. I was really ready to start my recovery, I settled in fantastic they have amazing staff so helpful and caring, the food is unbelievable thanks to Danny the main man in the kitchen, the grounds are beautiful, the bedrooms are very nice I overall found my stay amazing. 10/10 couldn't fault it many thanks Francis.
My husband was in the priory 6 months ago, which I wasn't totally convinced by not only experiences of others but the surroundings/ Set up and approach to it .. he is only 2 weeks into his journey at IBIZA calm and it's the first time in a long time I can finally hear happiness in his voice, and motivation on his healing / sobriety journey , commitment to his inner and outer health.. I know this is just the beginnings But both billy and Luca have been extremely helpful and helpful to myself ! If your looking for yourself or a loved one, 100 look no further this is the type of place someone who is suffering needs- the surroundings, the programme, the environment , and amazing team!
I can't thank the team at Ibiza Calm enough. I had a friend who spent time with them and what they have done is amazing. From the therapy to the meetings have all set him up for moving forward. Once he left he was not just left and has a fantastic aftercare system in place. Thank You.
I am writing a review on behalf of a friend who prefers to remain anonymous and wishes to express his thanks and gratitude to the staff at Ibiza Calm. He had previously stayed at two rehab centres in the UK, and found the experience at Ibiza Calm to be far more beneficial than either of the UK centres. He said he felt the therapists were much more experienced and caring in their approach which in turn gave him the confidence to finally fully open up about his triggers and issues. He has been sober for the longest period since he has started his road to recovery and it's all thanks to Ibiza Calm.
I'm so grateful for my month at Ibiza Calm. It's a beautiful place, and I learned how to manage my life in a positive way, with healthy food, exercise and self-awareness. I've had many life challenges since I left ( over 2 years ago), but I haven't used any of the destructive behaviours I previously relied on. I gained clarity, freedom and sanity, for which I will always be thankful.
ibiza calm is a great place for treatment I was using drugs and drink all the time my life was a mess until I went to ibiza calm in april 2016 the staff were fantastic and cared for me the treatment I recieved was second to none I can't thank ibiza calm enough and also my family have there son and husband back in there lives thanks to this place I am grateful to the owners who have always supported me through the years
Parte Superior