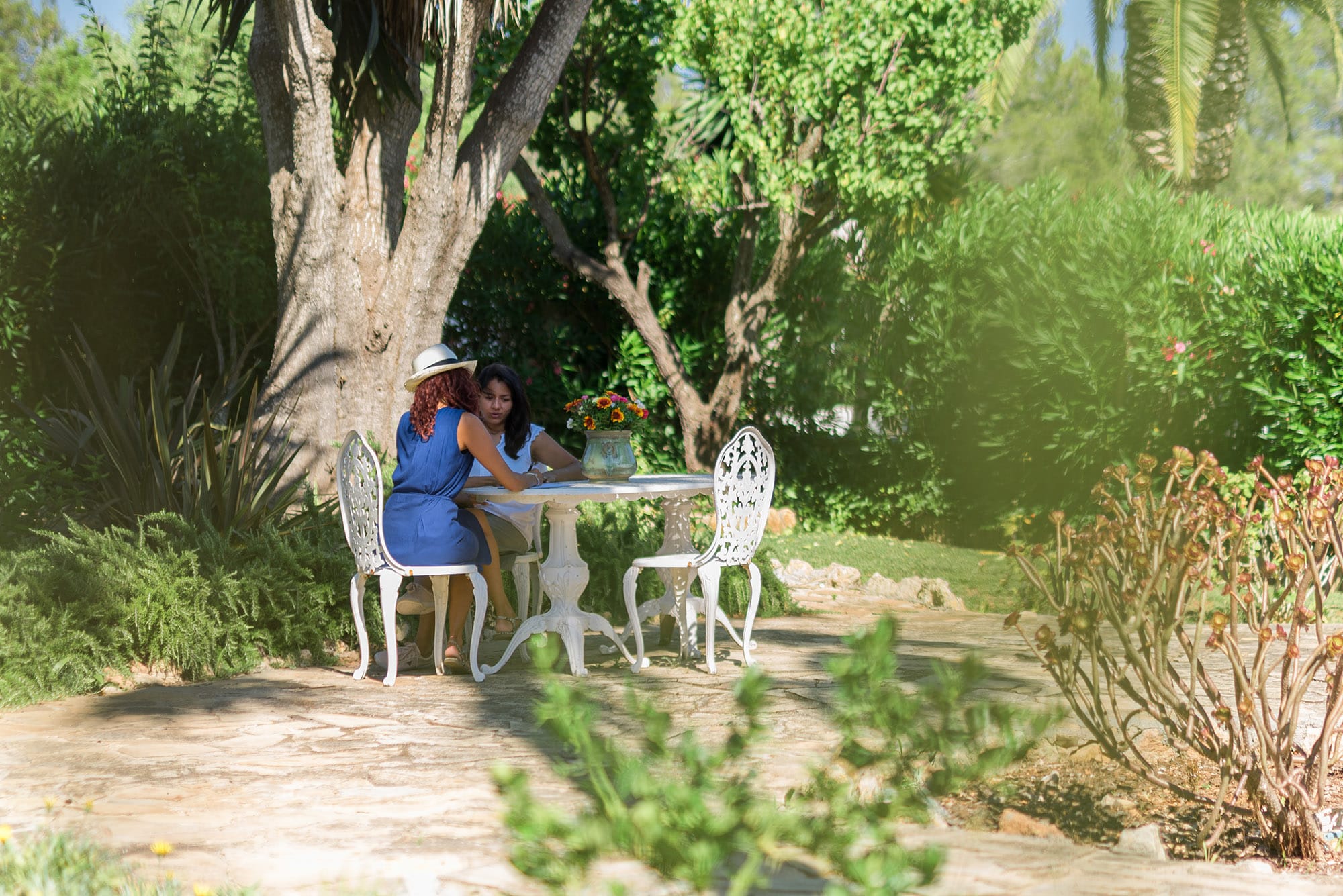 Op Maat
Behandeling
Op Maat Een op Een Behandeling
Hier bij Ibiza Calm herkennen we dat sommige van onze klanten op zoek zijn naar een meer geïndividualiseerde en op maat gemaakte aanpak van behandeling dan wat veel andere Behandelingsfaciliteiten bieden; een waar de klant alle nodige zorg en aandacht kan ontvangen om te herstellen in een exclusieve één tot één omgeving. Sommige klanten kunnen ook hulp nodig hebben bij familieleden en we bieden daar een aangepaste oplossing voor aan, waar ook accommodatie voor zowel familieleden als personeel of beveiliging wordt aangeboden.
Ons persoonlijk behandelplan
Naast de meerdere bezetting voordelen van het luxe landhuis & terreinen, hebben klanten ook een gepersonaliseerd behandelingsplan dat omvat:
→ Dagelijkse 1-1 therapie
→ Exclusieve toegang tot een privé arts en psychiater
→ Begeleide externe zaken- en vrijetijdsreizen
→ Toegang tot Skype, email, telefoon enz. voor zakelijke en familiale doeleinden
→ Een geschikt fitness regime binnen en buiten het terrein
→ Eerste klas dagelijkse complementaire therapieën waaronder Shiatsu & Indian Head Massage
→ Geplande maaltijd regime met behulp van een eigen chef-kok en diëtist
→ Een doorlopend zorgpakket dat ook een 24 uur per dag in klinische optie biedt voor waaneer u de behandeling wilt verlaten als u dat wenst
→ We kunnen alle reisarrangementen verzorgen, inclusief een privé-jet en opgeleide reisgenoten, om een veilige zorgeloze reiservaring te bieden.
Klanten die kiezen voor deze behandelingsbenadering kunnen exclusief gebruik maken van ons twee slaapkamer bovenhuis en/of het exclusieve gebruik van ons grote landhuis en terrein voor een langere periode om te omgaan met een verscheidenheid van gezondheidsproblemen.
Onze vorige klanten die deze privé-en op maat gemaakte behandelingsoptie kiezen, zijn meestal drukke personen uit de bedrijfs- en kunstwereld en andere mensen die leven hebben, waar het gewoon niet mogelijk is om volledig te 'verdwijnen' voor een aanzienlijke periode langere tijd. Met de ondersteuning en geïndividualiseerde zorg die we in deze unieke omgeving bieden, kunnen klanten in hun eigen tempo in vrede en veiligheid terugkeren met een gefaseerde terugkeer naar een energiek & meer productief nieuw leven.
Verslavingzorg & -behandeling
We gebruiken een behandelingsmodel dat berust op compassie, niet-beschamend en niet-beschuldigend. We bieden de ondersteuning die het besef van waardigheid versterkt en functionele zelfzorg aanleert. We gebruiken verschillende therapeutische technieken zoals cognitieve gedragstherapie, motivatiegesprekken, een inleiding tot het Twaalfstappenprogramma en verschillende groepstherapieën. En dit gecombineerd met fysieke beweging, een gezond en uitgebalanceerd dieet en een zeer rustige, comfortabele en inspirerende omgeving.
Op Ibiza Calm volgt het
behandelingsproces deze stappen:
1- Beoordeling
een grondig lichamelijk en psychologisch onderzoek door ons medisch team. We besteden bijzondere aandacht om de geschiedenis van het gebruik van voorgeschreven geneesmiddelen door te nemen.
2- Detoxificatie
(detox) is een medisch behandeld proces waarbij de cliënt van zijn/haar middel van keuze "afkomt". Voor geneesmiddelen op recept kan dit process tot een maand oplopen. Niet iedere cliënt heeft detox nodig.
3- Behandelplanning
gebeurt met de cliënt en omvat de doelstellingen voor een toekomstige levensstijl.
4- Therapie
1-1 therapie, groepstherapie en educatieve lezingen. Vanaf de eerste dag wordt de cliënt een therapeut toegewezen en verwelkomd in groepstherapie. Ons doel is om elke cliënt meer over zichzelf te laten ondekken en leren om de instrumenten voor herstel te gebruiken.
5- Goed eten en fitness
gezond eten is in het middelpunt van onze behandeling en we hebben onze eigen voedingsdeskundige. Yoga, mindfulness en fysieke activiteit (waaronder wandelingen naar de stranden) dragen allemaal bij aan een snel en grondig herstel.
6- Rust
is de sleutel tot herstel. Ons behandelings programma geeft tijd om te ontspannen en slaap in te halen.
7- Gezinnen
we moedigen familieleden aan om een deel van het revalidatie proces te vormen, en een familie sessie bij te wonen aan het einde van elke maand.
8- Nazorg
wij plannen wekelijkse nazorg sessies op Ibiza en in het Verenigd Koninkrijk. We kunnen ook helpen met het regelen van nazorg in het land van verblijf voor onze internationale cliënten.
Your courage is admirable!
THE PATH TO RECOVERY STARTS WITH A SMALL FIRST STEP.
TMS – Transcranial Magnetic Stimulation
Ongeveer tweederde van de mensen met een depressie krijgt onvoldoende verlichting van het eerste antidepressivum dat ze proberen.
Sinds de introductie in 1985 is deze behandeling onderzocht op zijn werkzaamheid bij verschillende psychiatrische aandoeningen.
Het is een bewezen en effectieve behandelingsmethode.
Testimonials
I wanted to drop you a quick message to thank you very much for your help and support during my stay within Ibiza Calm. Each and every person in the house was important in his own way in my recovery. I feel very grateful to all of you. It's not always easy but it is achievable. My life is way much better than it was before coming and I am definitely a better version of myself now.
My son attended two rehab facilities before going to Ibiza Calm.  Ibiza Calm, however, was exactly what it professed to be. They worked with my son as a vital ally in his recovery process, not as a person to be broken and fixed according to a set regimen, who would be blamed and shamed if he did not respond appropriately to the facility's treatment protocol and schedule. The therapist assigned to my son struck the right balance between allowing him to move at a pace at which he was comfortable and pushing him to keep a challenging pace of self-discovery and recovery. My son has come out of this treatment calm and self-aware; whereas he finished the other programs angry and even traumatized. My son has only been 6 weeks out of Ibiza Calm, so the long-term success in remaining sober remains to be seen, but the change in his attitude and behavior is so profound that I have great hope for the future for the first time in years. I recommend Ibiza Calm without reservation, rather with overwhelming gratitude.
I was at Ibiza calm from the 4th of July to the 29th of July 2020, I am 23 years of age and was in a horrific place in my life From drink and cocaine. My girlfriend is pregnant and outright had enough of my selfish behaviour. I was really ready to start my recovery, I settled in fantastic they have amazing staff so helpful and caring, the food is unbelievable thanks to Danny the main man in the kitchen, the grounds are beautiful, the bedrooms are very nice I overall found my stay amazing. 10/10 couldn't fault it many thanks Francis.
My husband was in the priory 6 months ago, which I wasn't totally convinced by not only experiences of others but the surroundings/ Set up and approach to it .. he is only 2 weeks into his journey at IBIZA calm and it's the first time in a long time I can finally hear happiness in his voice, and motivation on his healing / sobriety journey , commitment to his inner and outer health.. I know this is just the beginnings But both billy and Luca have been extremely helpful and helpful to myself ! If your looking for yourself or a loved one, 100 look no further this is the type of place someone who is suffering needs- the surroundings, the programme, the environment , and amazing team!
I can't thank the team at Ibiza Calm enough. I had a friend who spent time with them and what they have done is amazing. From the therapy to the meetings have all set him up for moving forward. Once he left he was not just left and has a fantastic aftercare system in place. Thank You.
I am writing a review on behalf of a friend who prefers to remain anonymous and wishes to express his thanks and gratitude to the staff at Ibiza Calm. He had previously stayed at two rehab centres in the UK, and found the experience at Ibiza Calm to be far more beneficial than either of the UK centres. He said he felt the therapists were much more experienced and caring in their approach which in turn gave him the confidence to finally fully open up about his triggers and issues. He has been sober for the longest period since he has started his road to recovery and it's all thanks to Ibiza Calm.
I'm so grateful for my month at Ibiza Calm. It's a beautiful place, and I learned how to manage my life in a positive way, with healthy food, exercise and self-awareness. I've had many life challenges since I left ( over 2 years ago), but I haven't used any of the destructive behaviours I previously relied on. I gained clarity, freedom and sanity, for which I will always be thankful.
ibiza calm is a great place for treatment I was using drugs and drink all the time my life was a mess until I went to ibiza calm in april 2016 the staff were fantastic and cared for me the treatment I recieved was second to none I can't thank ibiza calm enough and also my family have there son and husband back in there lives thanks to this place I am grateful to the owners who have always supported me through the years
Top