Highly effective and luxurious professional rehab in Spain
Specialised in treating addiction to drugs, alcohol and prescription medicine.
Treatment
Residential Addiction Treatment
Taking the first step towards addiction treatment can be very difficult, and contacting a rehab clinic requires courage. We respect anyone who picks up the phone and calls us. Our phone number is +34 664 443 433.
We can help anyone whose drinking or prescription drug taking has gotten out of control. Every case is different, every situation is unique and every call is important to us.
Some clients may require detoxification and all clients get proven psychological and complementary therapies.
These therapies enable insight into the questions that many addicts have: Why is this happening to me? Can anyone help me? How can I regain control of my life?
We help our clients regain control and find their inner balance. We have a non-confrontational approach and believe in a caring and supportive approach.
We offer a thorough assessment to understand why our clients have become reliant on alcohol, drugs or a compulsive behaviour like gambling.
The Admissions Process at Ibiza Calm
Often it is a family member or loved one who calls on behalf of the person who is abusing drugs, alcohol or prescription medication.
We will explain our costs, the timeframe, suitability and answer any other questions. We will also want to speak to the client's GP, therapist or psychiatrist to get a medical history. The first step is to carry out an initial telephone assessment with the client, and perhaps arrange another call with one of our therapists.
We give each client a date for admission and everyone is greeted by our clinical team on arrival.
We admit clients from all over the world and offer treatment in both English and Spanish. Clients fly into Ibiza's airport sometimes with a family member or loved one, sometimes alone. We pick everyone up from the airport and make sure they are safe at every step of the way.
The Treatment Process
Our treatment follows a proven multi-disciplinary model, combining medical, psychological and alternative therapies.
At Ibiza Calm the treatment process follows these steps:
Assessment: a thorough physical and psychological examination by our medical team. We take particular care to take a history of prescription medicine use.

Detoxification (detox) is a medically managed process during which the client comes off his/her drug of choice. For prescription drugs this can take up to a month. Not every client needs detox.

Treatment planning is done with the client and includes the goals for a future lifestyle.

Therapy: one to one counselling, group therapy and educational lectures. From day one the client will be assigned a therapist and welcomed into group therapy. Our aim is to help each client discover more about themselves and learn to use the tools for recovery.

Good food and fitness: healthy food is at the centre of our treatment and we have our own nutritionist. Yoga, mindfulness and exercise (including walks to the beaches) all contribute to a rapid and thorough recovery.

Rest is key to recovery. Our treatment programme allows time to rest, relax and catch up with sleep.

Families: we encourage family members to be a part of the rehabilitation process and attend a family session at the end of each month.

Aftercare: we schedule weekly aftercare sessions in Ibiza and in the UK. We can also help our international clients arrange aftercare in their country of residence.
Anxiety, Depression and Bipolar Disorder
New research shows that depression and bipolar disorder often accompany drug and alcohol misuse.
At Ibiza Calm we carefully assess for anxiety, depression and bipolar disorder on admission, and provide individualised therapy that is tailored to each client. These conditions may have already been diagnosed, but often not. Our medical director will assess if those ups and downs are a separate condition, or the result of a drinking/drug taking lifestyle, and what is the best way forward.
For Family & Friends
Addiction is often misunderstood and comes with social stigma. This makes it hard for the addict, and his/her family, to admit to the problem and ask for help. Family members can persuade themselves that he/she's not really an addict or alcoholic and this denial might prevent them from getting the help they desperately need. It can also result in "codependence" in which friends and family get stuck in unhealthy relationships.
At Ibiza Calm we understand the pain, confusion and misery that addicts can cause to friends and family and offer them practical support.
Intervention service
Family members who witness a loved one struggling with addiction often know they must confront them, even though this can be really hard. But if they don't intervene – who will?
We offer a personal intervention service, in other words we help families get their loved ones into addiction treatment. It can be difficult to confront a loved one and if it's not facilitated properly it can make things worst. Our staff can advise on the best way to do this and if necessary arrange all of your travel needs including a sober companion to escort you or your loved one safely to treatment.
TMS – Transcranial Magnetic Stimulation
While there are many effective treatments for conditions such as depression, first-line approaches such as antidepressants and psychotherapy do not work for everyone. In fact, approximately two-thirds of people with depression don't get adequate relief from the first antidepressant they try.
Enter Transcranial magnetic stimulation (TMS). Since its introduction in 1985, this treatment has been studied for its efficacy in different psychiatric disorders. It is a proven and effective treatment modality for major depressive disorder, Tinnitus, obsessive compulsive disorder, Tourette syndrome, fibromyalgia and addiction. Both the National Institute for Health and Care Excellence (N.I.C.E, UK) and the Food and Drug Administration (FDA, USA) approve and support the use of TMS treatments, particularly for acute depressive disorder.
The introduction of transcranial magnetic stimulation (TMS) enables the clinician to focally stimulate specific areas of the brain noninvasively and painlessly. The efficacy of TMS in the treatment of depression has been extensively studied. Treatment of Tinnitus has seen a drop of symptoms, in some cases by an extraordinary 60%. TMS treatment has also been shown to have some beneficial effects in the treatment of posttraumatic stress disorder (PTSD.) In fact, this treatment is considered so effective that progress can be seen in just a few sessions. In most cases there is a reduction and cessation of prescribed medication. Ibiza Calm now performs TMS treatment on-site and ensures a more complete recovery when used in conjunction with our more traditional approaches. Experience TMS in a safe and contained residential setting.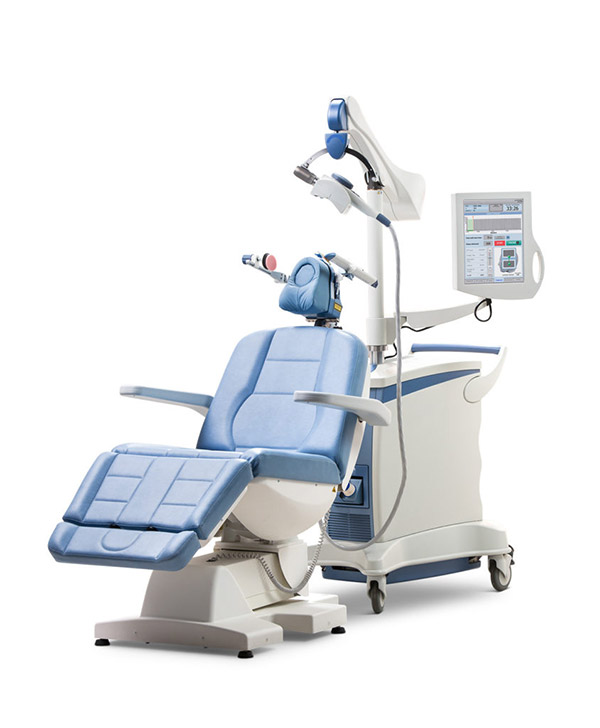 Contact Us
Contact us
If you think we can help you or a loved one, please contact us for a confidential talk with one of our specialists.
Contact Us